Director
MAQUETTE KUPER is a graduate of the New England Conservatory of Music, spent two summers as a fellowship student at Tanglewood (summer home of the Boston Symphony Orchestra) and studied in Paris on a Fulbright fellowship. She has also studied privately with Lloyd Gowen, James Pappoutsakis, and Michel Debost. She has been a performing participant in master classes given by Julius Baker, who described her as "a soloist of the highest calibre." Ms. Kuper is a winner of the Mu Phi Epsilon International Young Artist Competition and an ACME member as a distinguished artist and educator, and has appeared as soloist with the Boston Pops Orchestra. She has performed in Europe and throughout the United States. Ms. Kuper is listed in Outstanding Young Women of America. The Sacramento Bee has said she performs with "strength, steadiness and authoritative style." The Davis Enterprise has said, "Maquette Kuper had such warm intonation and such musicianship that her playing was a delight . . . the flute was dazzling." She was the featured soloist with the Sacramento Symphonic Winds and the Sacramento Bee reported "The audience gave a standing ovation to the classic and widely recognized "Fantaisie Brillante sur des airs de Carmen" which showcased the sweet beautiful music of local flutist, Maquette Kuper." Ms. Kuper has been a founding member of Sacramento's Capitol Chamber Players and the California Wind Orchestra. She plays principal flute with the Auburn Symphony and has been a featured soloist in several concerts. She is also a member of the Crocker Art Museum Music Board, helping to organize the Classical Concert Series at the museum. A longtime Davis resident, she teaches flute privately and is the founder and director of the Davis Youth Flute Choir.
Director of Jazz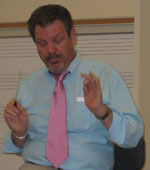 FREDRICK LANGE completed his undergraduate studies in music, graduating with departmental honors, and received his M.A. in Musicology at the University of California at Davis in 1974. He recently retired as Director of Bands at Davis Senior High School, a school that is nationally noted for excellence in music. His Symphonic Band has performed twice at the Western International Band Clinic in 1990 and 1994, and his Jazz Band has performed over 10 times at the Monterey Jazz Festival High School Jazz Competition and 3 times at the internationally known Monterey Jazz Festival.

A charter member of the Davis Comic Opera Company, Lange served them as musical director from 1981 through 1996. With that group he won the Sacramento Area Regional Theater Alliance's Elly for best musical director for their production of Ken Ludwig's Sullivan and Gilbert in 1995.

He has been on staff at the American Band College sponsored by Southern Oregon University. He has commissioned various works for band and jazz band among them Johann de Meij's "Ratatouille Satirique" (published by Amstel Music), Warren Barker's "A Celebration Of Life" (published by TRN Music), and Bruce Pearson's "Rejouissance"(published by Neil A Kjos Music). He has also commissioned numerous works for jazz ensemble.

Fred and Davis flute teacher Maquette Kuper worked extensively with the Gemeinhardt Corporation for the commissioning of a composition for symphonic band with flute choir to be written by Robert W. Smith, known for his work as a composer for CPP Belwin. The result was "The Gemeinhart Suite," which had its premier in November of 1997.

In 1997 Fred was invited to be guest conductor at Ms. Kuper's annual flute camp, where he introduced jazz to some of the area's outstanding student flute students. He subsequently wrote a number of arrangements for flute choir with jazz accompaniment, including "Georgia On My Mind," "Don't Get Around Much Anymore," "Satin Doll," "Doxy," and "Cute." In the summer of 2004 Lange wrote an arrangement of Bach's Brandenburg Concerto #4 for flute choir. That was soon followed by arrangements of Bach's "Wachet Auf." and Moreau's "Rondo" as well as "Concerto in G Major for 2 Flutes" by Domenico Cimarosa. Most recently he arranged J.S. Bach's violin Concerto in E Major which the choir will premiere at the National Flute Association Convention in New Orleans in August, 2013. ALRY Press has published the all the works.
Fred has been been honored by the Capitol Section of the California Music Educators Association as Music Educator of the Year in 1996, by the Highwheelers Barbershop Chorus who presented him with the Harmony in our Lives Award in 1991 in appreciation of his contributions to the musical enrichment of the Davis community, by the City of Davis as winner of the A. G. Brinley Citizen of the Year Award in 1990 for outstanding contribution to the arts, and by the Sacramento News and Review with their "Jammies Award" in 2004.
Fred retired from his position at Davis High School in June of 2012 having directed the Davis High School Bands for 26 years. He performs with a brass quintet BRASSY! and continues to arrange music for the Davis Youth Flute Choir.